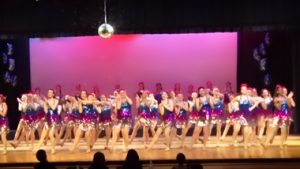 For dance recital videos, as Dance Studios have found there way to Dick Osso, it is important to understand that recital dates are usually in the spring. So to be sure that Dick is available for your recital, be sure to contact him early enough.
Videography At A Glance:
$30 per DVD
5 Day Turn Around Time
Highlight Video on YouTube With Links to Studios For Parents (No Copyright Issues)
Available, individual mailings to parents. Contact Dick for details about shipping labels, mailers, postage.
Printed Envelopes for Studios To Hand Out To Parents For DVD Sales
USB Flash Drive Movie Recital Video For Director (FREE)
OPTION – Add USB Flash Drive of Recital
OPTION – Flash Drive with Movie File of "My Child Only Performance"
Concert Performances – Plays – Musicals, Concerts, Performances and Recitals
(examples)
A Capella Performance – Les Miserables – Footloose  – Nutcracker – Chorus Line
Need DVD recordings
As an EVENT videographer, dance recital videos have become a growing request.
How He Shoots:
The best location is as close as you can. In the back of the auditorium is NOT the where you should be. Depending on Stage size, Lighting, the closer the better.
Fill The Screen
Dick shoots WIDE to get everyone into the scene, then makes a close up when the stage has few dancers. When possible, a pan down the line to get better close ups of the dancers. Always….always….try and have the dancers fill up the screen, so they appear bigger when watched on TV, computer, or cell phones.
Cost:
Dick chargers $30 for a fully edited DVD, Printed DVD Disk and Printed DVD Box Insert using your logo.
Dick does not charge for shooting the performance recital if at least 20 units are sold for a single show – 40 units for 2 shows – 60 units for a 3 show recital day. Otherwise, another arrangements can be made.
Highlight Video Posted:
Dick will post a Highlight video of the presentation and send the studio the link to send out a blast email or Facetook announcement of the location link.
Due to Copyright Laws, I cannot use the music from the Recital. I have purchased my own music and scored the dancers with the appropriate style music so parents can see the Highlights. On the DVD and flash drive, The music from the recital is what you will hear.
Envelopes
Dick can provide printed envelopes to you. These come in handy during the sign up process to collect checks or cash as well as serving as a paper record of who purchased the DVD when it comes time to hand them out.
Production
Dick has a copy/printer system that allows him a faster turn around time for the DVDs.
Post Production
Any parent who still wants a copy of the dance recital DVD, should contact Dick. He will then direct mail a DVD copy to the parent. They will have to include Postage and Packaging besides the cost of the DVD.
Options for DVD Files Converted to Movie Files for Flash Drives
Flash Drive of at least 30 GB is required, provided by parent. I will reformat the drive to play the movie file on either PC or MAC. The full show, without Chapter Markers, will play in high quality format. Because it is a USB Drive, the file can be loaded to any device or played off a smart TV. Ask for details.
Direct Mailing
Any studio that wants us to direct mail all the DVDs to parents directly, besides the sign up envelopes, there will be included a Mailing label that parents are to fill out. This is how the package is directed. The cost of direct mailing is about $5-$6 per DVD. The benefit of this, the studio does not have to worry about the paperwork.
Studio Included DVD
Several studios have decided to include a DVD as part of the tuition. With each parent receiving a DVD, the studio does not have to concern themselves with the paperwork. They can also let the parents know of Recital day, to lower their cameras and just enjoy the show as they are getting a professional copy.
If you are interested in having your dance recital recorded, contact Dick for your next season. As dates fill up quickly, the sooner you contact him, the better the chance to acquire the date of your recital.
dickosso@mac.com